Many of our family and friends here at the LYF are familiar with our work and already committed to donating zakat during Ramadan. But for those of you who aren't – please read on!
The largest portion of the world's 800 million poor are 'subsistence' farmers; barely able to make a living after they've fed their families with the crops that they grow.
So, making enough money to be able to cultivate and sell a crop for a fair price, in order to access better health, education and housing is simply a dream for most. And all too often these farmers are also faced with climate change disasters (flooding, drought) or a war or conflict; making death from hunger an every day reality for millions.
But our approach centres on 'help up' – rather than the 'hand out' approach. Through our unique Farmers' Voice Radio project, we give hundreds of thousands of farming families across Africa access to vital information about crop cultivation, climate change, negotiating for a better price with buyers from the North and encouraging their young people not to desert farming life for the (often false) lure of city life.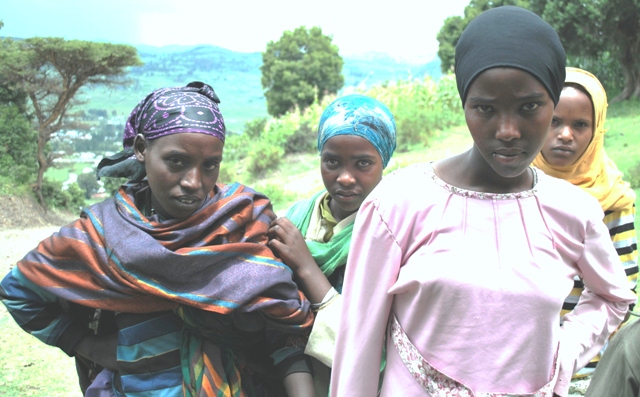 So, we help these coffee, tea, rice, nuts, fruit, cocoa, shea etc. farmers in Ghana, Ethiopia, Tanzania, Kenya, Sierra Leone, the DRC and Uganda to create their own radio programmes; filled with content and vital information that they have selected and designed themselves; the most important advice for them – for their crops and for their family's survival.
We also have a UK focus; we have never been fans of the 'Dragon's Den/ Apprentice' greed-focussed approach to enterprise and instead, have been working to grow a new generation of ethical entrepreneurs. In 2009, we created the world's first refugee-owned social enterprise; the Oromo Coffee Company. And since then, we have been working with groups of disadvantaged young people to teach them about problems facing the world's poor. After they have been made aware of the interconnectedness with those living overseas who are poverty-stricken, we then support the groups to create their own ethical and community based social enterprises – selling fairly traded products and services. This is called our 'Not Just Us' programme.
Our groups are comprised of young people from marginalised backgrounds, who also lack privilege and advantages needed to succeed. But we also ensure that our groups are made up of people from mixed backgrounds, so that misunderstandings and prejudice can be overcome through the medium of ethical enterprise. Our very first group began in West Yorkshire, where we worked with a group of Muslim and non-Muslim youth; all of whom were at risk of long-term unemployment, who forged some life-long friendships and who have now gone on to achieve great things!
Giving it Away – for FREE
But what makes the LYF even more unique is that we are a small charity with virtually no overheads. Since 2003, we have been home-based; no expensive London rent to pay, no ridiculous CEO salaries and no feathering of our own nests. We have always been determined to keep the vast amount of funding in-country; being spent on the people who need it the most. And even better than this – our Board recently took the decision to OPEN-SOURCE our Farmers' Voice Radio work AND our Not Just Us work; meaning that our learning and advice can now be given away – free – to the communities who need it the most.
So if you want to be assured that your zakat will be received with huge gratitude this Eid and will go directly to the poorest people in the world overseas … please do consider donating to us – and telling others about us!
Christina Longden, Director for the LYF has been a key driving force for our work to help poorer communities both overseas and in the UK. You can find out more about Chris' own personal passions to challenge negative perceptions of Muslims here.
See www.lyf.org.uk and www.farmersvoiceradio.org for more. You can donate to the LYF here